Expositie "PLAYTIME" – Galerie Mieke de Wolf
Opening 23 juni 2019.
Tijdens deze expositie laat ik shawls zien die bedrukt zijn met de Japanse Katazome stencildruk.
Sinds 2017 gebruik ik plantaardige kleurmaterialen in plaats van industriële kleurstoffen. Dat betekende dat ik veel heb moeten "spelen" met verschillende recepten voor drukpasta's. Vandaar dat de expositie " PLAYTIME" heet. Elke shawl is uniek, patronen komen wel terug maar steeds in andere combinaties en kleuren.
Workshop: Verven en Drukken met Planten (februari 2019)
Tijdens De Tijdelijke Textieldrukkerij in De Museum Fabriek Enschede kun je meedoen aan heel veel workshops over textieldrukken. Op een aantal momenten verzorg ik een workshop Verven en Drukken met Planten, waarvan de eerstvolgende plaats zal vinden in februari.
Studio BonBon, dessin 314-87 (1987)
This colourful handcrafted screen printed textile is one of my all-time favourite designs from my Studio BonBon time. Read more about my experience and achievements at the 'About Me' section.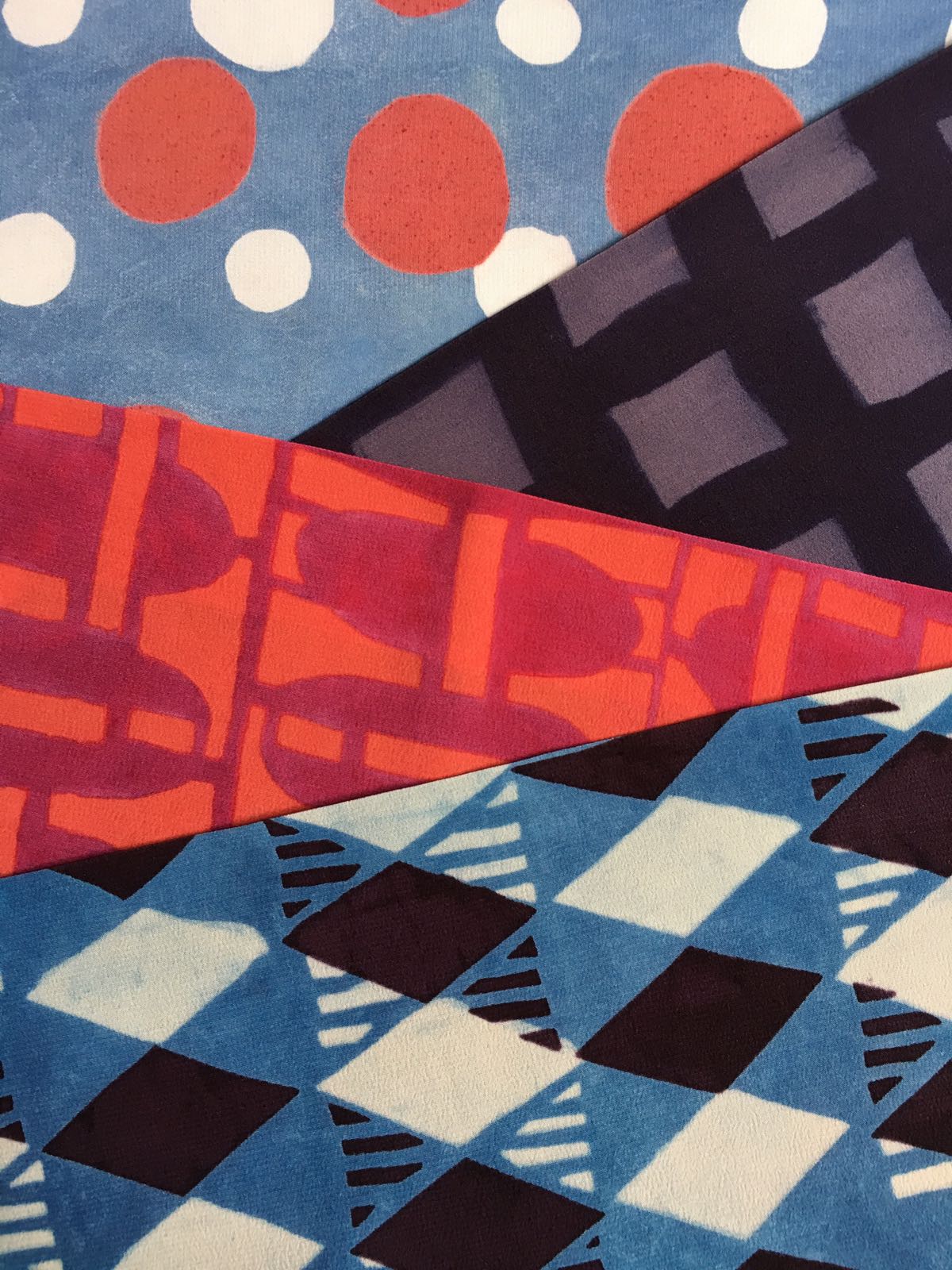 Workshop: textile printing & dyeing with natural dyes
AUTUMN 2017, ENSCHEDE, THE NETHERLANDS
During this workshop I taught about vegetal dyes, thickened with various resources to make them suitable for textile printing.
Katazome Workshop (Summer 2017)
During the summer of 2017, I visited Clare Island (Ireland) to give a Katazome workshop. During this workshop made stencil prints on silk with rice paste. The technique is based on the Japanese Katazome resist printing method. For the workshop I developed a simplified way of Katazome printing, making use of the natural dyes Clare Island's untamed nature has to offer.
Month of Engraving (2016)
During the 2016 Month of Engraving (Maand van de Grafiek) I participated in a group project. Click on the link to read more about this wonderful experience.
Scarves
Katazome (Japanese rice paste resist printing)
Since 2005, I design and create printed silk scarfs using the Japanese Katazome technique, a very laborious stencil printing technique. I cut stencils (katagemi) in simple patterns and combine them in different ways, leading to new patterns every time I print. See and read more at the 'Katazome' and 'Scarves' sections.
Weaving Samples
Ever since I started to weave in 2008 – first as an extension of my design- and craft skills – I enjoy to play and discover new combinations. During this process I focus on making samples, rather than weaving large pieces of fabric. Head over to the 'Weaving' section and see more.
Studio BonBon, print workshop (1986)
This photo was taken in the Studio BonBon print workshop I operated together with Alke de Kroes (on the right) in the 80's. Read more about my experience and achievements at the 'About Me' section.
Patterns on Paper
Exhibition: Textile Patterns at Museum TwentseWelle (2015)
Handcrafted (Katazome) silk scarves on display during the exhibition Textile Patterns (Textielpatronen) at Museum TwentseWelle, Enschede.